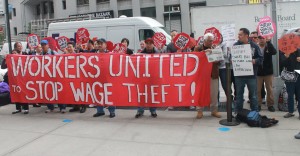 Nail salon, restaurant, day laborer, home attendant, office, and other workers have been standing up against wage theft and even winning decisions. But despite these judgments, workers have not been able to collect the wages owed to them because legal loopholes allow employers to completely escape responsibility. By fraudulently transferring assets, declaring bankruptcy, or shutting down their business and changing names, unscrupulous employers can avoid ever paying the stolen wages of even those workers who win decisions at the DOL or judgments in court, such as the nail salon workers at Babi Nails.
This not only causes many workers to suffer, it also undermines those employers who comply with the labor law. Even the Labor Department says it is frustrated because it cannot collect stolen wages.
As long as bosses can run away from the law, there will be no end to wage theft. The Coalition calls on the Governor to support the SWEAT bill (Securing Wages Earned Against Theft) to make the labor law enforceable and to put a stop to sweatshop conditions.