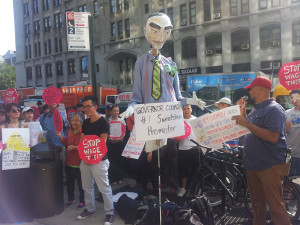 The Coalition for a Real Minimum Wage Increase is happy to hear that Governor Cuomo has finally announced that his administration will convene the wage board and raise the minimum wage for tipped workers, the majority of whom are women.
But we are not stopping here. We continue to to rally in front of the Department of Labor and keep up the pressure to make sure the wage board is inclusive, and to make sure Governor Cuomo and the DOL commit to enforce the law by investigating wage theft claims 6 years back and supporting the SWEAT bill to strengthen the current law and make enforcement possible.
Furthermore, we call on Governor Cuomo to raise the minimum wage to more than $8 so workers can survive and stop giving millions in subsidies to corporations for hiring teen workers.
We urge all workers and supporters to join the picket line. This is a crucial time for New Yorkers to speak out and demand Governor Cuomo take action.