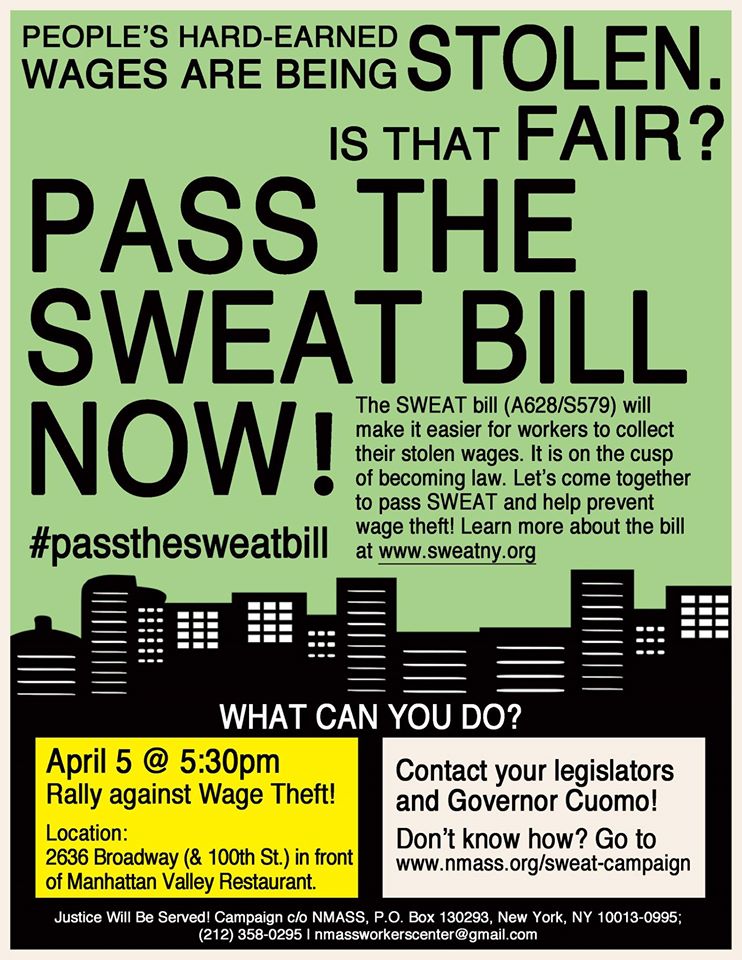 Learn more about the bill at www.sweatny.org
 Please RSVP for our annual Lunar New Year Celebration and help us usher in the Year of the Ram!
Sunday, March 15, 2:30pm
@ PS 1, Chinatown / 8 Henry St.
New York, NY 10038
Happy Lunar New Year! We are charging forward in 2015, breaking new ground:
Taking Back our Community
After years of condemning the racist East Village Rezoning Plan and fighting to include Latino organizations into Chinatown Working Group (CWG), we recently won a battle against developers. On January 5, 2015, CWG adopted important principles of the People's First Plan. The plan includes 100% low-income housing on NYCHA public land and placing height limits and 55% low-income housing on private land in waterfront area, which encompasses the hotly-contested former Pathmark lot. Armed with this victory, and encouraged by the recent arrest of Assemblymember Sheldon Silver, Chinese workers are leading the fight for change and coming together with communities across the city to tell Mayor DeBlasio that our communities are not for sale.
Fearless in the Fight to End Wage Theft
In 2014, we supported East Market Restaurant workers to launch a picket line in front of the restaurant, in the heart of the Fuzhounese community, to kick off the campaign against the wage theft. Later, joined with hundreds of workers from other communities we held demonstrations monthly in front of NYS Department of Labor (DOL) to demand Governor Cuomo enforce the labor law and increase the minimum for tip-workers. The action successfully forced the Cuomo administration to convene the Wage Board to increase wages from roughly $5 to $7.50 for ALL tipped workers. Furthermore, we brought to light the need for better enforcement as well as new legislation to make enforcement possible. Currently, the DOL has a 17,000 case back-log, which is unacceptable.
Taking Back the 40-hour Workweek
Chinese women workers have made huge strides, putting time at the forefront of the debate in workers' struggles and women's struggles. We connected with workers in Pactiv's Arkansas factory who are facing retaliation for organizing against 12-hour mandatory overtime shifts. On March 8, International Women's Day, we are launching a national boycott of Costco, urging the company to stop buying Pactiv and Reynolds sweatshop products. This May, in commemoration of the 150th anniversary of the demand for a 40-hour workweek, the Ain't I A Woman?! Campaign will join students, faith groups and workers' organizations across the country who are teaming up to take back control of our time.
We invite you to join us in fighting these struggles during this year of the Ram which symbolizes determination and steadfast bravery in the face of difficult opposition. We also hope you will join us at the celebration on March 15th to welcome in the Year of the Ram!